Rover Lifestyle
Join Date: Aug 2009
Location: Split, Croatia
Car: Rover 200 (95-99) 'Bubble Shape' & Rover 600
Posts: 10,690
EKA (Emergency key access) code
---
MG-Rover models: ZR/200/25/SW, ZS/400/45, F/TF
ENGINE IMMOBILISATION
Engine immobilisation is an important aspect of the car's security system, that occurs automatically whenever the alarm is armed.
The system also includes a feature known as passive immobilisation, whereby the engine is immobilises automatically thirty seconds after the starter switch has been turned off and the driver's door opened and closed - even if the driver leaves the key in the starter switch, or forgets to lock the driver's door and arm the alarm! Passive immobilisation is indicated by a steady flashing of the anti-theft alarm indicator light.
The engine is re-mobilised by a signal transmitted from the handset to the starter switch. This occurs automatically (not on very early car models) whenever the key is inserted into the starter switch and turned to position II, provided the handset is in close proximity to the switch.
For this reason, it is important to keep the handset on the same ring as the starter key.
If the handset has become detached, the remobilisation signal can only be transmitted by pressing the unlock handset button.
If the starter switch is turned and the engine fails to re-mobilise, a warning bleeper will sound. To
re-mobilise the engine, press the unlock handset button.
If the handset is lost or damaged, use the door key to enter the Emergency Key Access Code described in follwing: 'Engine immobilisation override'
ENGINE IMMOBILISATION OVERRIDE
There are two procedures for Engine immobilisation override proces writen in Owners Handbooks. They are presented here as a copy from Owners Handbooks. Layout may vary from Handbook to handbook, but the content is the same.
First one is valid for car up to year 2002. Seems that after that year Owners Handbooks started to be printed with second procedure. In accordance to this you may know which procedure to use. However if your alarm system was replaced from factory original for wahtever reason, you will not know which procedure is correct one for you, so may try both of them.
First procedure
Second procedure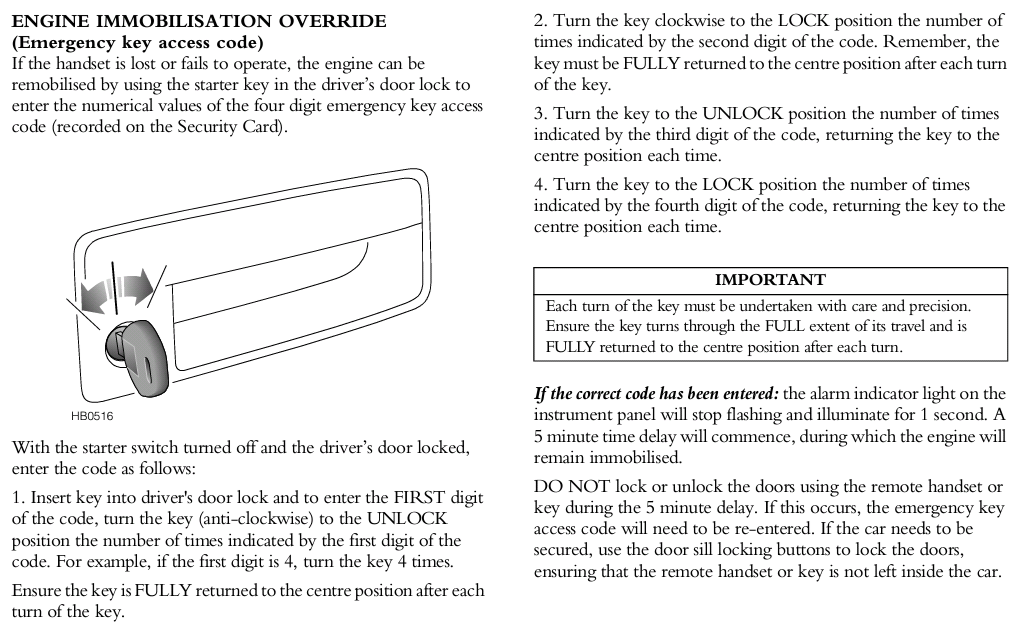 VERY IMPORTANT NOTE is that these procedures are written in Owners Handbooks, but in real life discrepancies from written procedures are occuring.
For example:
- In case of First procedure it is not always necessary to follow step 1 when you need to turn key into LOCK position and hold in this position for at least 5 seconds. You may go to step 2 immediately.
- In case of Second procedure you do not need to wait for 5 minutes before you try to start your engine
- Also in Second procedure although it is not mention in the handbook this engine immobilisation override may last only one engine start-stop cycle. Meaning you may need to enter EKA code each time you want to start the engine without using your handset.
In case that you do not have your EKA code ONLY certain way to get your EKA code is to read it from your alarm box. This can be done by using specialised tool able to read such boxes.
Alternatively you can use one of database reading offered services in accordance to your VIN number, but this service has limitations.
Database is created in MG Rover factory, so if your car has alarm box changed anytime within it's life, this database is useless for you.
There is possibility that your VIN number is not in this database, for whatever reason.
Important information is that in early days there was a batch of cars with error in written code in databse, where you need to raise 2nd and 4th digit of 4 digit EKA code by 1 (for example: if your number is 6374 your real code is 6475)
Currently Active Users Viewing This Thread: 1

(0 members and 1 guests)
Posting Rules

You may not post new threads

You may post replies

You may not post attachments

You may not edit your posts

---

HTML code is Off

---