Registered User
Join Date: Apr 2007
Location: Portsmouth
Car: 45 2.0 Diesel
Posts: 7,855
Quote:
Originally Posted by
richardsoniscoo
View Post
Hi pal, have you got a picture of what you done? Was any welding needed

Cheers, mike
I only have one (bad) pic to hand, but here it is:
Absolutely no welding required for it, just some drilling and M6 bolts.
The part in question, looks like this: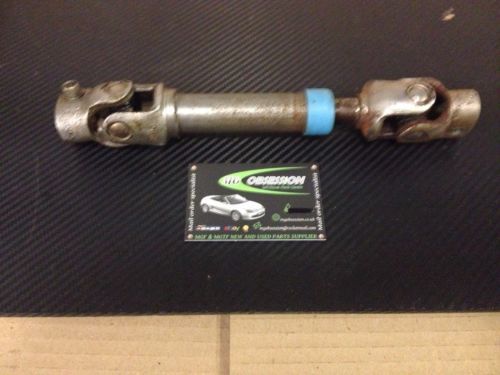 It's quite easy to "liberate" from a scrap MG, just undo the two bolts, and then undo the steering column bracket. Go into "beast mode", give the column a good tug and it'll come off soon enough.
Then if you cut off the collar (blue in the picture), the two parts will separate and you're left with a UJ on a hollow shaft (which I cut the shaft in half lengthways and then bolted to my selector shaft) and a UJ on a rod, which could be welded on as per MG John's method.
Registered User
Join Date: Feb 2012
Car: MG ZS
Posts: 5
cheers, i think this may the way i go. unless anyone on here want to make me one
Registered User
Join Date: Jul 2016
Posts: 2
sloppy gear stick "i wish"
---
hi guys i have just taken the gearbox out of my saloon mg zs 180 v6 2.5l and put it in my mg zs 180 2.5l v6 hatch back saloon is a 53 plate hatch is an 03 plate.

now io have a sloppy gear stick " ha ha ah if only" the gear stick is all over the shop i mean even when its in a gear the stick can move from first to revese all by its little self

revese is almost impossible to find. now before i start stripping it all can any guide me to the exact part that causing the issue the forward and back is sfine but no stability on the left to rigt its everywhere.

thank you in advance and sorry for highjacking but it seamed to be the same issue as this post but a little worse lol
Registered User
Join Date: Sep 2016
Car: CityRover
Posts: 5
Anyone that have measured the inner diameter of the gear linkage bar from Rovers such as the 620ti and 600 Diesel? The outer diameter is about 22mm, but would really like to know the inner diameter. If anyone have done the mod with a welded stub on top of the bar, there should be easy access to measure the ID of the open hole.
Currently Active Users Viewing This Thread: 1

(0 members and 1 guests)
Posting Rules

You may not post new threads

You may post replies

You may not post attachments

You may not edit your posts

---

HTML code is Off

---