Registered User
Join Date: May 2006
Location: Hayle/falmouth
Car: MG ZR
Posts: 32
trying to trace my metro down
---
i sold my metro gti few years back and was trying to find it and get it back
it was on a h plate with 34000 miles H582 GCV
some pics...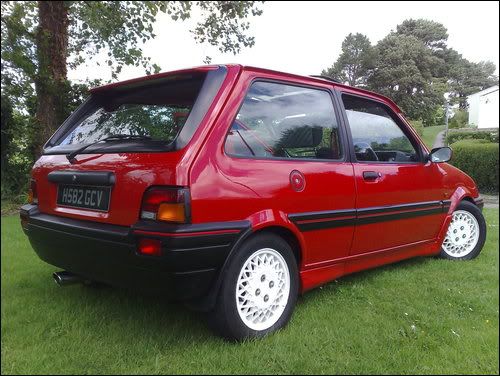 any help finding this would be much appreciated
Registered User
Join Date: Dec 2003
Location: Gloucester UK
Car: Rover 620ti, Metro 1.8 VVC, 1982 X reg MG Metro 1300, Rover 214Si Lotus Elise S2, Porsche 924
Posts: 7,069
Looks a really smart car!!
free check on here says its insured currently which means its not been scrapped like so many now
http://www.askmid.com/ownvehicle/
T4 Diagnostics
Join Date: Feb 2005
Location: Aberdeenshire
Car: R40, R41, P6, FL2, Imp, R56, Street Twin
Posts: 860
Looks like it is still on the road
, taken from DVLA website
Date of Liability 01 06 2010
Date of First Registration 29 01 1991
Year of Manufacture 1991
Cylinder Capacity (cc) 1396CC
Vehicle Status Licence Due to Expire
Vehicle Colour RED
Vehicle Excise Duty Rate for vehicle
6 Months Rate £68.75
12 Months Rate £125.00
Registered User
Join Date: Sep 2008
Location: Bromley, Kent
Car: Rover Metro GTi, 118SLi, MG Metro 1300 & MG ZR160
Posts: 3,452
take a look on metropower.org.uk/forum
The many metro owners and ex owners may be able to help you.
Registered User
Join Date: May 2006
Location: Hayle/falmouth
Car: MG ZR
Posts: 32
excellent thanks guys i wish i had never sold her but times were tight....
Registered User
Join Date: Mar 2010
Location: Bolton, Greater Manchester, UK
Car: Mini (The real one)
Posts: 72
Your in look!!!

Your metro is up here in the north west, a young lad that works in the co-op great harwood, lancashire, bb6 7du owns it.

HOWEVER, it has got a dint on the front, and the plates have been changed to the bog standard ones, i will try and get his details for you, but can't promise.

Email me your number, i'll pass it on.

Regards,

Dave
Lol my mate owned that car for a whyle a few years back, let's just say this it isn't a 1.4 now
stunning car all round, he sold it a whyle ago tho
Currently Active Users Viewing This Thread: 1

(0 members and 1 guests)